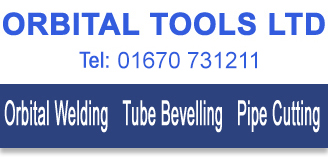 Training
Orbital Welding and Tube Preparation Equipment Training
Orbital Tools Ltd offers comprehensive product training on all the equipment we supply, either on our own premises, your premises or on-site.
Training is provided for specified periods of time, appropriate to the equipment and can take place anywhere in the World. We have recently completed training throughout the UK, Norway, USA and Portugal.
All training packages are tailored to your individual company requirements and we can advise on what is suitable for all equipment supplied by ourselves.
Where appropriate training can be arranged at the equipment manufacturers facilities.
Training Benefits
Training enables workers to understand the correct procedures when operating equipment.
By completing a proper training program, users will be aware of the safety measures required to operate different equipment.
To find out how our training will benefit your company Telephone today on: 01670 731211