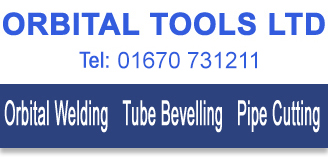 Equipment Hire
Orbital Welding and Tube Preparation Equipment Hire
At Orbital Tools Ltd we have an extensive range of Orbital Welding Systems, Tube Saws, Pipe Bevelling Machines and Tube End Preparation Equipment for hire.
We are happy to offer customised hire packages to suit your requirements, be they weekly, monthly or longer.
Our hire charges include delivery to a UK facility, on-site installation and training in the use of the equipment for up to three operators. Our training also includes safety issues etc.
Hiring Benefits
With no capital outlay, you can have access to our huge range of the most modern orbital tools. These will save on your labour costs and we remove the worry regarding registration, depreciation, storage, repairs and maintenance.
Plan your work to suit your business and only hire the equipment when you need it.
Add to your existing equipment during peak periods.
To find out how hiring our equipment can benefit your company Telephone today on: 01670 731211